When you're a women of color, pigmented eyeshadows are a must! Unfortunately sheer and ashy looking shadows do not cut it. Thankfully, Pür Cosmetics came out with yet another women of color friendly product! According to Pür , Pür Quick Pro Glitters 5-Piece Eye Polish Kit features high-pigmented and high-glamour glitter eyeshadows with a built-in primer that lasts without creasing or fading. This kit retails for $39.00 and features 5 different colors-  Namaslay (rose gold), Midnight Diamond (Charcoal), Queenie (Yellow Gold), Lust (Copper) and OMG (Brown w/ Rainbow Shimmer).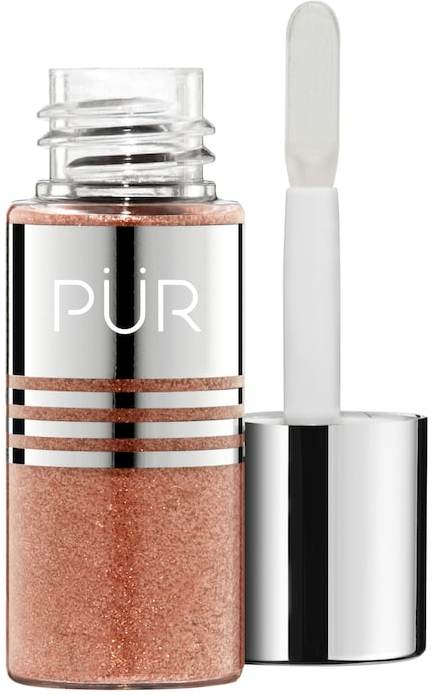 Here are the claims:
The unique 3-in-1 formula can be used as a primer, eyeshadow base and glittery top coat all-in-one. Use it for a glamorous one-and-done look or layer it on top of your favorite matte eye look for a head-turning update. The built-in applicator makes application easy for the girl on-the-go. 
Is it SoulStyleBeauty approved?
After playing in these glitters, I so agree with the claims!  SSB'S, these shadows are EVERYTHING! They really remind me of a liquid highlighter (but instead its a eyeshadow product) and as Pür claims the shadows are extremely pigmented. For application I used my LA Girl Concealer as a base and then applied the Quick Pro Glitter in the shade Lust on top. The applicator (pictured above), makes it extremely easy to apply the shadows. However, I did notice that in order to actually blend the product out, a brush is needed.  Just my opinion though! Once the product is blended out, it dries down and stays put.

I decided to play around and create a eyeshadow look using the Pür Cosmetic Quick Pro Glitter in the shade Lust. I am so feeling a cut crease now a days. After all, it did take me years to figure out how to do it (hehe)! This soft glam look is perfect for date night, girls night out or any special occasion.
Thank you Pür Cosmetics for allowing me to try this product! SoulStyleBeauty APPROVED!